Wot Fan Modpack v4 [9.19.1.1]
Hi,friends!
I would like to introduce you an unique assembly of the mods Wot Fan
Updated 21.07.2017
Updated to 9.19.1.1 version 4

Wot Fan Mods — a popular assembly of all your favorite mods. The assembly includes a plurality of sights,sounds hangars, and other useful mods. And also a few unique. Such as:
— Mod for improved display auto sight
— Mod for auto activation LBZ
— Mod which puts all the tanks in the hangar
If you download this assembly you will be able to subscribe to Wot Fan own channel and keep abreast the latest news from the WG.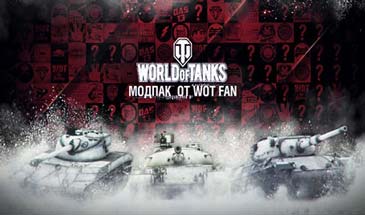 Installation:
Run the installer and follow and follow the instructions.
Download:
Wot Fan Mods (35 MB)