Yellow sight for World of Tanks 0.9.19.0.2 from Andre_V
Excellent yellow sight for World of Tanks from Andre_V, looks nice and does not load the interface. There are all necessary information to work with WOT 0.9.19.0.2. There are an arcade and sniper scopes, information to display projectile entering angle and armor calculator in archive. Keyboard yellow sight and this information looks quite nice.
When fully charged, turn on animation tools – translucent yellow circle that goes from the center marker in the form of a pulse, now you do not miss the time of full charge. Install and test it.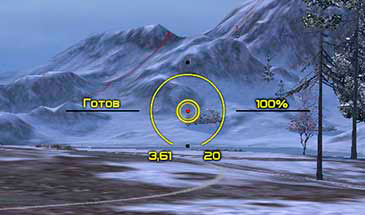 Installation:
Copy the folders gui and scripts in WOT / res_mods / 0.9.19.0.2/.
Download:
Yellow sight  (500 KB)