The most minimalist damage panel for WOT 0.9.17.0.1
Fans of minimalist will appreciate this mod. No more unnecessary and distracting information due to which sometimes even not see the screen and accordingly the battlefield. Only the most important and useful information. Thanks to the correct location of all modules mod is so compact.
Since the module is arranged in a row player will be able to quickly see the damage. HP strip is bright in green. Nice color, which does not hurt the eyes. In archive is represented by two variants of mod in different colors. Author is Marsoff + Dellux + Andre_V.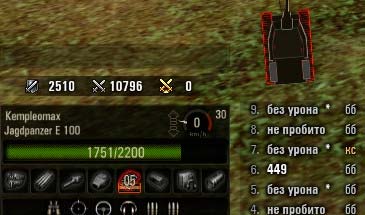 Installation:
Copy the folder 0.9.17.0.1 and configs in WOT / res_mods /, confirming the replacement.
Download:
The most minimalist damage panel (100 KB)