Mod: Vulnerabilities of tanks 0.9.17.0.1
Experienced tankers know that each tank has its place, with varying degrees of reservation. And you do not need to know all of them if you want to inflict the maximum damage your enemy. You just only need to install mod for vulnerabilities of tanks 0. 9.17.0.1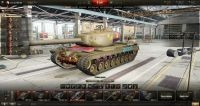 Each tank in the game has a little armored and therefore heavily armored places. According to the number of tanks in the game ( 350 tanks) there is no need to remember all possible vulnerabilities of the enemy. To do it you need to installMod: Vulnerabilities of 0.9.17.0.1 tanks, which will show you the vulnerabilities of the enemy in the form of color zones beaten. It is much easier for you to do task, and you can easily inflict maximum damage to your enemy.
Mod: Vulnerabilities of tanks for all of the following tanks.
Installation:
Copy the vehicles from the archive to a folder World_of_Tanks / res_mods / 0. 9.17.0.1 /.
Download:
Mod: Vulnerabilities of tanks 9.17.0.1