[0.9.16] Mod "The armor learning in the hangar" for WOT
For all professionals, strategists and players simply want to improve their skills in combat we present mod «The armor learning in the hangar». With this mod you will always know all the weaknesses and impenetrable tank space.

Mod «The armor learning in the hangar»is one of the numerous and useful mods included in the popular assembly ProTanki. This mod is a copyrighted by ProTanki. Despite the advantage of mod it is completely legal and approved by WG. The main purpose of the modification is to improve the players results in the game.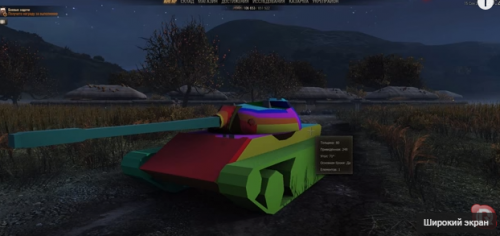 After downloading and installing this mod you will have the opportunity to read and study all the weak places of tanks. Starting from 5 level tanks have appeared the armor that not so easy to hit. Each combat vehicle has its own «Achilles heel» hitting which you will have the most damage. Mod is easy to use for both experienced gamers and beginners. You can not only visually compare the equipment in different places but if move your mouse to the selected tank you will receive information in the form of plates of thickness, summation and reservation of the tank. And what is more useful in this mod it is the ability to calculate the angle of maximum hitting and breaking so make your shots effective and of good quality.
We also propose to add more modification setting ShowVehicle, which can display all of the tanks that for some reasons are not in your hangar. Thus you can learn reservation even in those tanks which have not been acquired yet.
Setting:
Follow the path: scripts in WOT / res_mods / 0.9.16 /
Download: