Mod: "I am Spotted" for WoT 9.19.1.1
Useful and informative mod "I am Spotted" for WoT 9.19.1.1

This mod will be usefull for you because with the message it will inform you if you are spotted and you will have a time to run.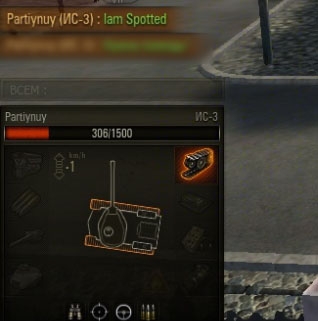 Mod: "I am Spotted" for World of Tanks 9.19.1.1 Author: S0me0ne & BlueW0at. The Mod send a message when you are spotted. With the button F11 you can On/Off this mod
Installation:
1)unzip the file in desktop.
2)edit configuration as you wish,configuration file is in
res_mods/x.x.x/scripts/client/modsOOP/spotMessanger/config.xml
3)copy res_mods from desktop to wot folder, replace if needed.
SRC folder contain source code, not needed to copy in your wot folder!
Download:
Mod: "I am Spotted"  (50 KB)