[9.15.1] Mod "Enemy Fire"
There is an adding to the category sound. Mod — voice «Enemy Fire»" for World of Tanks.

The name of this mod speaks for itself. If you installing this mod you will always be informed about the arson attack your opponent by you. Fun music, cool phrases, blazing tank of your enemy what could be better. This mod will always be able to focus those moments. While the author provides a trial version of mod but works and promises to increase the range of options and sounds. The author of the mod is popular modder Ekspoint and Andre_V. The mod advantage is the ability of sound pre-listen to your choose.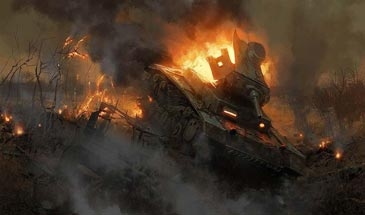 The sound list included such mods:
• Voice Armored Warfare.
• Voice Bomba.
• Postproduction Company of Heroes.
• Voice Far Cry 4.
• Voice Goblin.
• Voice Juvoy Ekipag.
• Voice Jove.
• Postproduction Kitchen.
• Voice liquidation.
• Voice Unreal Tournament 3 (Eng).
• Voice Unreal Tournament 3 (Rus).
Setting:
1. First copy the audio folder from WOT / res / in the WOT / res_mods / 0.9.15.1 /
2. Next, scripts and audio in the folder WOT / res_mods / 0.9.15.1 /
Download:
Mod «Enemy Fire»  (3 MB)
Related posts: