Mod clock in hangar for WOT 0.9.19
Upon request many tankers we present mod clock in hangar. Mod with lots of benefits and advantages. Firstly clock that can be placed anywhere in the hangar. They will help you watch time of game. Secondly built-in calculator. This function allows tankman calculate their income, expenses, or the necessary experience.
You feel comfortable calculator and clock can be set separately. In archive you will find some of the most useful functions for the clock: with the background, clock like in XVM and more. Author of mod is AntonVK.
The configuration file for setting mod.
Clock Set – World_of_Tanks \ res_mods \ 0.9.19 \ gui \ flash \ configHangarClock.xml
calculator setting – World_of_Tanks \ res_mods \ 0.9.19 \ gui \ flash \ configHangarCalculator.xml
Setting:
Copy the scripts and the folder in the gui: /WOT/res_mods/0.9.19/.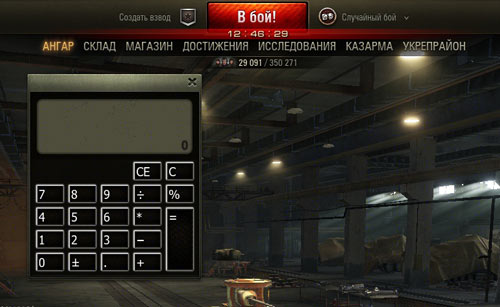 Download:
Mod clock in hangar  (3 MB)