Winter hangar – "The tank on the bridge" for WOT 0.9.10
Updated 08/09/2015:
adapted to 0.9.10;
Description:
On our site you might see a bright summer hangar for World of tanks, where the tank was located on the bridge in the middle of the forest with beautiful scenery.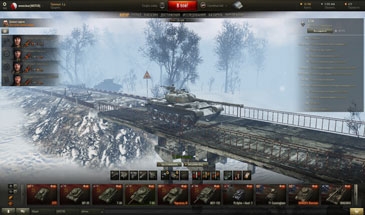 But as time passed, and winter came there, all covered with snow, and the snow is soft. Here are the winter hangar tank on the bridge for the WOT 0.9.10. Soft, pleasing to the eye, in a silk-and-white colors. Well looks very nice, if you like winter and snow, you'll love it!
Installation:
Copy the entire contents of the archive in the WOT / res_mods / 0.9.10 /.
Download:
The tank on the bridge(38.6 Mb)