The hatched hit zones from the "Red Star" for 0.9.15
We present you the alternative skins with light modules, crew, breaking zones, vulnerabilities, top guns and tank geometry highs. Skins are made in the style of the «Red Star» frov Kodoku & Lemon96.

Changes:
— adapted to 0.9.13
— adapted to ver. 74
— All skins converted to the new format SD + HD;
— added IP;
— Temporarily remove the skins, to be converted into a new visual format: Type 62, AMX 50 100, FCM 50 t, Churchill VII, Caernarvon, Conqueror, Panther / M10, VK 36.01 (H), M6A2E1, T23E3, M46 Patton, T110E3, T110E4, T -62A.
— added auto installer;
At the moment, the package includes the following skins for tanks.
Germany: Mause, E-100, Jagdtiger, E-75, VK4502 (P) Ausf.B, E-50;
France: AMX 50B, AMX 50 Foch, AMX 50 120, BatChatillon 25t;
U.S. T110E5, T110E4, T110E3, T95, M103, T30, M46 Patton;
USSR: IS-4M, IS-4, IS-7, Ob.704, IS-8, ST-1, T-54.
Marked areas:
Red — zones penetration.
Pink — combat pack.
Green — power plant.
Blue — internal fuel tanks.
Yellow — crew.
White — top gun, radio.
Variants of skins:
Outlined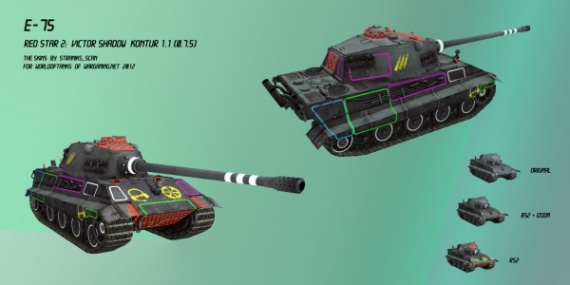 shading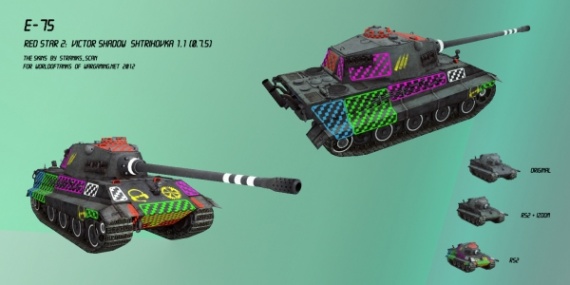 Shading with transparency (Classic) **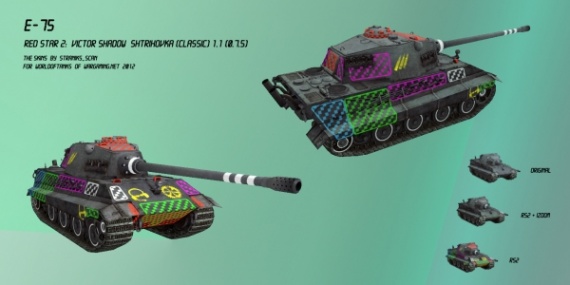 Installation:
Extract the folder «vehicles» and its contents in the game folder "… \ World_of_Tanks \ res_mods \ 0.9.15 \".
To remove the skin just delete or rename the folder «vehicles».
Download:
skins_dendyt_contour (60 MB)