9.18 Cheat ModPack for Skills
Hello, there!
Today we would like to introduce you one of the best cheat modpack for World of Tanks.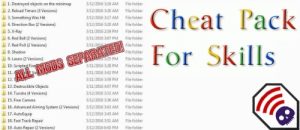 We remind you that if you use prohibited modifications you can be punished: block an account or ban from developers. This modpack includes:
— X-Ray mod
— AutoEquip
— Tundra (4 Versions)
— Destractable Object
— Red ball
— Red Poll
— Lazers (2 Versions)
— Free Camera
— and much more…
The great advantage of modpack is oppotunity to set all mods separetly.
Download:
9.18 will be soon
Cheat ModPack for Skills (37 MB)