Mod: Indicator – Enhanced display of avtopritsel [0.9.17]
Updated 14/12/2016
Description:
Using avtopritsel very useful, especially when you start to turn somebody, or simply aim is not moving. Seizing it, you no longer need to drive a mouse and trying to aim his weapon at her.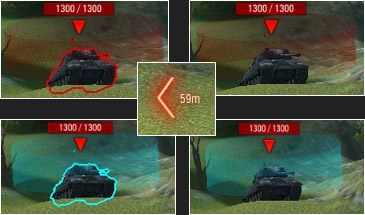 This invention is a miracle, most tankers learned after the introduction of the regime tanking races. As if it was not funny, but it is still true.
Often, taking someone to avtopritsel, you can forget whom you hold it at gunpoint, and it is often not very good for your efficiency, because you can shoot not there where you wanted. In this case you need Mod: Indicator — Enhanced display of avtopritsel [0.9.17].
When you installed an extended display mod avtoprtsela, you will see the following warning in the occupied goals:
-on the captured tank will include a constant loop stroke
-around the energy field will be translucent
-if you captured the goal suddenly gone from the field to your view, right or left arrow shows the direction and distance to it
-all of the above indicators captured target can be disabled in the settings. During testing, FPS fashion subsidence was not observed.
Installation:
Copy the folder res_mods from the archive into the game folder. (World_of_Tanks \)
Setting mod:
LED color changing energy field in the configuration file mode (World_of_Tanks \ res_mods \ configs \ spoter_mods \ autoaim_extended \ autoaim_extended.json) in the line «color»: «wg_enemy» ,. Available colors refer to the row below.
Color options:
blue
brown
chocolate
cornflower_blue
creamy
blue cyan
emerald
gold
green
yellow-green
hot pink
lime
Orange
pink
violet
red
yellow
If you need to disable the other indicators, just replace True to False in the right line.
Download:
Mod: Indicator  (400 KB)