[0.9.19.1.1] Zoom x60 mod in sight for WOT
Zoom mod is one of the most important elements for a successful battle. If opponent is far away and you are not sure that you can get into it then zoom mod help you. Zoom mod can approach and delete, if necessary, a camera in sight. We offer mod with zoom up to x60 from the popular author Ekspoint. Features modification:
– Zoom camera for arcade
– Zoom with 10 positions
– Zoom from x1 to x60
– Mod NoScroll
– Compatible with Pmod mod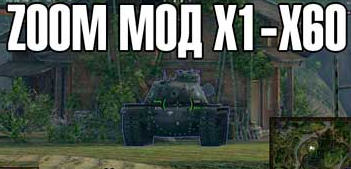 Installation:
Folders  gui and scripts copy to the /WOT/res_mods/0.9.19.1.1/
The settings file
Change step zoom multiplicity or add a position can be in the configuration file: World_of_Tanks \ res_mods \ 0.9.19.1.1\ scripts \ client \ gui \ mods \ mod_zoom_extended.json in a row "" zooms ":". Positions are written with a comma!
Download:
zoom-mod-128 (100 KB)