Technology hangar on the factory of tanks WOT 0.9.10 + Flags of Nations
Updated 08/09/2015:
adapted to 0.9.10;
Description:
Wargaming has once again decided to please us with a new hangar. This time, he decided to make the process hangar at the factory tank, which is suitable for WOT 0.9.10.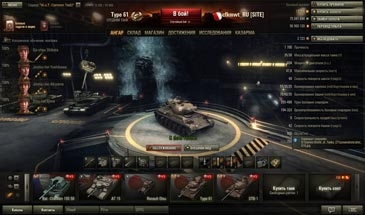 After installing it your tank moves into the center of the assembly of tanks. It will be on a separate platform, because it is already assembled and ready for battle. On neighboring same tanks will be disassembled.
The hangar added their sounds:
flowing waterfall
banging hammers
work machines
sounds welding
Hangar released a stylish and modern.
2) Technological hangars with extended zoom and the flags of the nations in five variants:
flags of the German Empire
Germany
United States
flags of the world
THE USSR
3) Technology Hangar with recycled flowers. Now the hangar will appear before you in a completely new color scheme, which is not similar to the previous. It does not look like a hangar on the old versions. An excellent replacement for the standard version if you have time to get bored.
Installation:
Copy the folder of audio WOT / res / in the WOT / res_mods / 0.9.10 /.
Copy the contents of the archive in the WOT / res_mods / 0.9.10 /, confirming a replacement.
Download:
hangar on the factory of tanks(61.1 Mb)