Forbidden modpack "WOTSPEAK" v4 for WOT 1.0.1.0
Tankers!
Today we present for you not only a good modpack but one of the best prohibited modpack. Forbidden modpack "WOTSPEAK". More detail about assembly you will find on our site.
Updated 09/05/2018
Changelog:
– Updated XVM
– Updated mod "repair + Treatment"
– Updated icons «3D Demon icons"
– Added mod "Hangar Manager"
– Added voice recharge the lamp
– Fixed a bug with sound
Modders really trying to make a game for you more comfortable and interesting. But now more and more developing category not only mods but prohibited mods or as it also called cheat mods. The purpose of mods such category is not only simple the game but  give for player advantage in the battle. For this reason this category is forbidden and for use of it you can be punished by WG. Therefore, we want to warn you: all the responsibility and punishment for use cheat mod is on player.
"WOTSPEAK" has legal  and forbidden mods inside. What mods are in modpack:
– Standard set for modpack (large variety of sights, functional mods, damaged panels, voices ……..)
– Usefull installer that give you opportunity to see a demonstration mods work
A number of prohibited mods:
– 4 smart autoaims.
– Mod Tundra.
– Moa reload timer of enemy tanks, knowing this information you will be able to travel without fear and cause great damage to your opponent.
– Colored tracers mod – this mod will be particularly interesting for the artillery.
– Mod that will display a shadow on the place where the enemy was discovered earlier.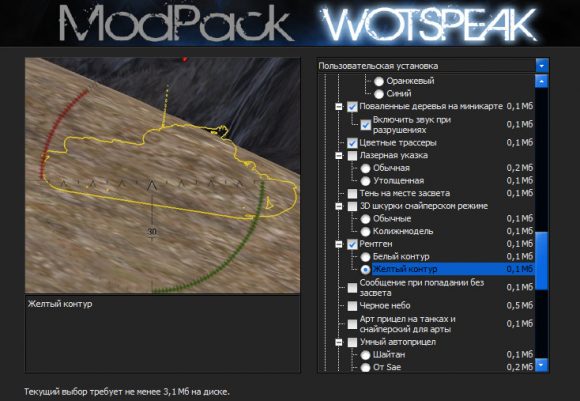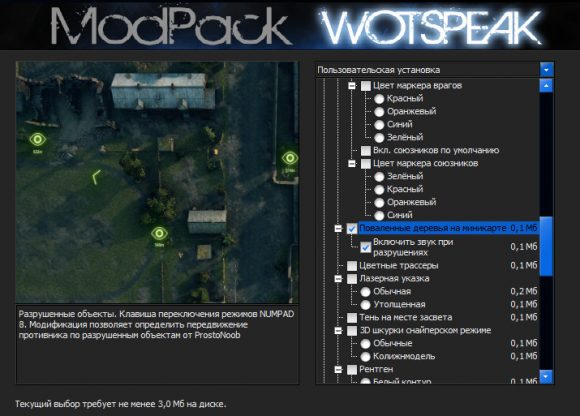 – And much more.
For the convenience installer menu has a special "buttons", which can show you  what keys are controlled illegal modifications.
Remind you! Some illegal mods work only a limited period of time, so after the expiry of time you need to re-install them.
Installation:
Download mod
follow the installer
Download:
Forbidden modpack "WOTSPEAK"  (180 MB)