[0.9.19.0.1] 3D icons from Demon2597 for World of Tanks
Here is another version of  icons that has already liked for many tankers. Author of mod is Demon2597. Informative, bright, noticeable icons, which will be indispensable in the battle. Author added tank icons, also you can remove mirroring, using the settings. But if you have enabled XVM you must disable mirroring its files (battle.xc).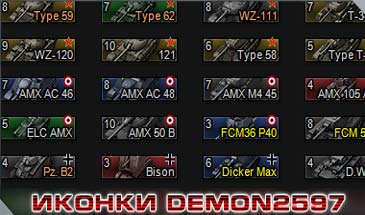 Installation:
WOT / res_mods / 0.9.19.0.1 /.
Download:
3D icons from Demon2597 (16 MB)